About Us
ZACH is a contemporary men's jewelry brand that embodies the spirit of modernity and style, proudly based in Mumbai, India. Our passion lies in creating unique and innovative jewelry designs that reflect global fashion trends while celebrating the rich craftsmanship of local artisans. At ZACH, we believe in the power of creativity and craftsmanship. Each piece of jewelry is carefully handcrafted by local artisans who possess years of experience and expertise in their craft. We source premium quality materials from various parts of India, ensuring that our jewelry is made to last, and our customers receive the highest level of quality.
Working Hours
Monday-Saturday : 9:00am–6:00pm IST
Order Support: 24/7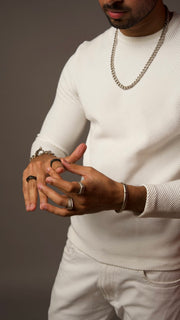 PURPOSE
Our mission is to make contemporary fashion jewelry an integral part of every man's attire, regardless of age, occupation, or style preference. We want to break the stereotypes and encourage men to express their individuality through our distinctive designs. Our jewelry is designed to elevate and enhance the style of urban Indian men, offering them a unique way to accessorize and express their personality.
1. Contemporary Designs
At ZACH, we create modern and stylish jewelry designs that are perfect for the fashion-forward man of today, blending classic and contemporary aesthetics to create unique and eye-catching pieces.
2. Premium Quality
We pride ourselves on using only the finest materials and craftsmanship to create jewelry that is built to last. Our commitment to quality ensures that every piece of jewelry from ZACH is made to the highest standards, offering durability and long-lasting enjoyment.
3. Fair Pricing
We believe that high-quality jewelry should be accessible to everyone, which is why we offer fair and transparent pricing. At ZACH, you can trust that you are getting the best value for your money, without compromising on quality or style.
4. Made For The New Age Indian Men
ZACH jewelry is specifically designed for the modern Indian man who values individuality and style. Our designs are inspired by the diverse cultural heritage of India and tailored to suit the tastes and preferences of the new age Indian men who appreciate contemporary fashion and want to make a statement with their jewelry.